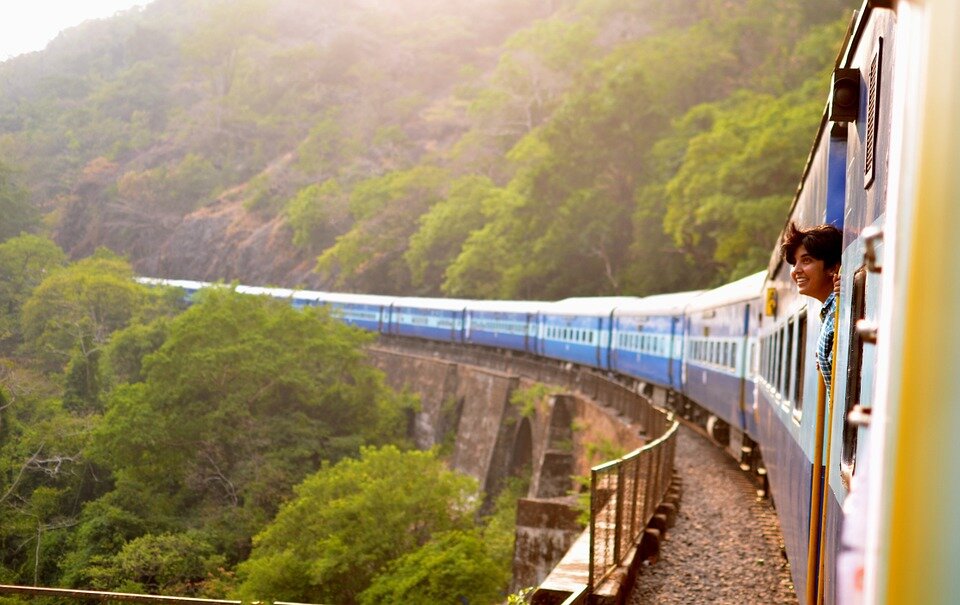 Train Services around Thailand / comfortable, safe, cheap & environmentally friendly.
Thailand has one of the best metre-gauge rail systems in the world and train travel is easily the best way to get around & see the country.  It's comfortable, safe, cheap & environmentally friendly.
Travel by train in Thailand
Travel by train in Thailand with Thai Railways carries with it a certain romanticism. The clatter, bumps, and jumps of the train wheels rolling over the uneven tracks. The roar of the wind rushing by the speeding train. The blaring, distorted announcements as the train rolls into the stations. The carefree feeling of sitting by the window and watching the scenery go by.
Altogether it's the image of what travel is supposed to be and always has been. So, just relax and enjoy the journey with the Thai Railways network. Just like in movies from the 50's and 60's. Train travel was the main way to get around Thailand and you could always strike up an interesting conversation or exchange travel stories with fellow travellors. Train travel in Thailand is a real Thai experience, and it gives you the chance to meet real local people, see how they travel, learn something about their lives, and practice your Thai Language skills. More / Thailand Railways (Bangkok) – 2019 All You Need to Know Before You Go (with Photos) – Bangkok.
Where to stay
Most train holidays in Thailand start in Bangkok. Most international air lines have direct flights to Bangkok and it is a large rail centre connecting the city with all of the tourist hotspots. Hotels come in all budgets but the pick of the bunch is probably Sukhumvit's S31Hotel, a modern 5 star hotel.
TRAIN versus BUS or AIR TRAVEL
WHERE CAN I GO
Thailand has one of the best meter-gauge rail systems in the world, along with India and Malaysia. Thailand has a very good inter-province connecting railway system and there are train services to all the regions (Northern, Northeastern, Eastern, Central, and Southern). You can literally see the whole of Thailand by rail in real time. No fast connecting flights or impersonal coach travel from hotel to hotel.
The recommended air-conditioned tickets are very popular, especially on the Bangkok > Chiang Mai and Bangkok > Surrat Thani routes.
First class and second class travel is available depending on budget.
HOW TO BOOK
The State Railway of Thailand (SRT) is well-organized and has also English speaking making it easy to book tickets and find out about itineraries and potential routes. Please note you have to book 15 days before your travel date. 
Train times & fares for popular routes
Bangkok – Chiang Mai
Bangkok – Nong Khai for Vientiane, see the Laos page
Bangkok – Ubon Ratchathani
Bangkok – Aranyaprathet for Phnom Penh, Siem Reap & Cambodia
Bangkok – Kanchanaburi – River Kwai Bridge – Nam Tok
Bangkok – Ayutthaya
Bangkok – Samut Songkhram – Mahachai Mae Khlong Market train
Bangkok – Pattaya
Bangkok – Hua Hin – Chumphon – Surat Thani – Hat Yai – S. Kolok
Bangkok – Penang – Kuala Lumpur – Singapore by comfortable train